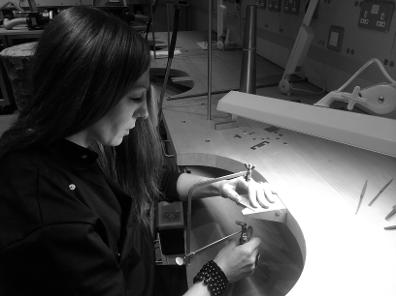 DESIGN PHILOSOPHY
In my work I strive to express a sense of beauty, sensuality, flow and energy.
I believe that the role of the designer in a society is to generate new ideas and challenge established perceptions.
I like to give my pieces an intrinsic meditative quality through depth, visual geometric rhythm or physical movement, to obtain a strong interaction between the piece and its wearer.
Elements that inform my designs are found in my interest in Quantum Theory, and the philosophic diversions and speculations that can be derived from it.
I'm also entranced by the universal and detailed magnificence of nature and its infinite richness in both colours and forms, as well as its pattern repetition and growth process.
I love to coalesce different materials in an experimental approach where, as in a chemical reaction, all of the elements acquire a new visual impact and an enriched meaning.
INFO
QUALIFICATIONS
2009- 2011: BA Hons. Jewellery and Silversmithing Design, London Metropolitan University, London / UK
2007- 2009: Fda Jewellery and Silversmithing Design, London Metropolitan University, London / UK
AWARDS
1st prize Mathab Hanna Award for use of new technology (June 2011)
British Jewellers' Award (June 2011)
The Goldsmiths' Company Award, Commended (June 2011)
Winner for the Decorative Arts section of the Pewter Design Competition "PEWTER LIVE 2009", awarded by The Worshipful Company of Pewterers
Commendation awarded by The Worshipful Company of Goldsmiths for Silversmithing and Jewellery – Fda Major Project (June 2009)